70% Increase in Test Scores
Say Hello to Top Score Writing!
Top Score Writing is Lexile-certified which enables us to provide students, teachers, and school districts with our custom-made and innovative lessons with thought-provoking and original passages tailored to aid in teacher instruction on targeted reading levels.

Easy To Use Process!
Top Score Writing gives your classroom everything you and your students need to be successful.

Students Love Learning!
Top Score Writing is fun, engaging, and easy to understand. This is not your typical ELA curriculum.

Test Scores Go Up!
Many counties now require that schools use research-based programs, and Top Score Writing is exactly that!
Writing is the Fastest & Easiest Way to Increase Test Scores & Overall Grades?
Watch this quick video where Lisa Collum explains and breaks down the data behind why writing is the easiest and most effective way to increase ELA scores.
Here's what they love about Top Score Writing!
As principal of a Title I school, I can say this is the best program we have in our building. It is so simple and easy for teachers to follow. They have everything they need for daily lessons and all of the resources are included in the teacher kits.

My teachers have the tools they need to feel confident in their teaching. Our ELA scores continue to soar because of this program. Highly effective!
Annemarie Dilbert
Principal – Crosspointe Elementary
My students have used Top Score for years. It is great to see their faces light up when they finally "get it"! I remember one student who struggled with expressing herself but with the structure of the program, she was able to write with confidence.

The program covers it all!
Christina Daigie Spita
Educator
Top Score is the BEST writing program around! My kids love the animated lessons and having everything you need to teach writing in one place is what every teacher needs!

I've had the most success with this program and wouldn't use anything else!
Top Score is the best writing program to use for students who have to take the Florida Standards Assessment. The lessons go step by step to help the children learn the proper format. The script is all there for teachers to use.

The emails with videos and support are super helpful to teachers. I highly recommend using this program, not just for FSA but also to help the kids learn to write a cohesive essay!
Angela P.
Director of Literacy
My students and I love this program!! I'm a 4th grade teacher and my students are writing great pieces. This program has helped my students understand what an opinion and informative essay is. I am completely grateful and so appreciative of this program because I feel that my students are enjoying writing and I can see how much they have progressed since the beginning of the year.

This is an excellent writing curriculum that will get any and every student to love writing!!!
Sasha L.
4th Grade Teacher
Sign Up Here to Get More Info
Don't miss out on Teacher Tips and Freebies for your classroom!
Subscribe Now to Receive Your First Freebie.
Don't miss out on Teacher Tips and Freebies for your classroom!
Subscribe Now to Receive Your First Freebie.
Does Your School Have a Writing Curriculum...
That Provides Day-to-Day Lessons?
Do your Students Struggle with Basic Writing Skills?
Most schools rely solely on reading and grammar programs to teach ELA skills, yet today's tests are heavily weighted on a student's ability to write. The lack of writing-specific curriculums results in not only lower writing scores but lower ELA scores across the board.

Schools that implement Top Score Writing call us their "secret weapon" because it quickly and easily raises test scores on the ELA and across the board. After years of analyzing data, we can directly correlate the improvement in writing scores to higher overall school grades.

It works and works fast!
2021 Digital Curriculum Sets
All lessons, passages, and worksheets can be downloaded and printed. Lessons are designed to be fun, engaging, and interactive.
Teacher Print & Digtal Curriculum Sets
PRINT EDITION
These lessons include modeling, guided and independent practice, quizzes, tests, and homework. Each curriculum set includes 110 day-to-day lessons and over 100 brand new passages. Lessons are designed to be fun, engaging, and interactive.
DIGITAL EDITION
Our digital curriculum is accessible on all platforms and facilitates the distribution and access of ability-appropriate informative, opinion/argumentative, and narrative passages that are built directly into structured lessons.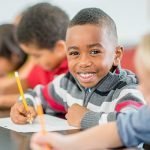 Top Score Writing is Trusted By: